Photography, Textiles & Glass work
Featured Photographer: John Kirk
Show: A Viking's Paradise
Local photographer, John Kirk's new show, "Looking Back" is a retrospective of his favorite images from the past five years.  These images represent the painterly style he has developed and are some of his most popular photos.  The show opens at The Photographer's Gallery at Ashland Art Center, Friday, April 6th during the 1st Friday Art Walk.
John loves to travel and is happiest with his camera and an open mind, always asking, "What will this new day bring?"
Featured St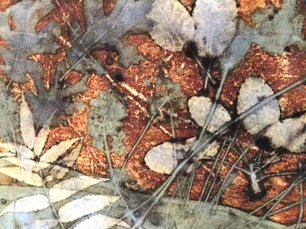 udio Artist:  Jo Ann Manzone  
Show:  What would happen if?
What would happen if?, has taken me on creative journey exploring new ways to incorporate dyeing, printing, stitching and fabric maniuplation into my art.
Featured Gallery Artist:  Daniel Seffinger 
Show:  Kiln Formed Glass
Glass Artist, Daniel Seffinger will be featuring his Kiln formed Glass bowls as Ashland Art Center's Featured Gallery Artist in May.  Using drop molds as a vehicle, he will be showing the process he uses in creating deep formed vessels in AAC's main classroom, on First Friday.  Examples illustrating each step will be on display.
First Friday Musician:  Hannah Cooper
Born and raised in Minnesota, Hannah Cooper is a singersongwriter with a sound that truly defies categorization. In seeing her perform live, you will experience her years of jazz guitar training, her classical choral background, and fine folk storytelling delivered with brave theatrical flair. With every performance, her listeners who come expecting a "just another" singer-songwriter are simply blown away. Hannah has had her talent recognized in international and elite class songwriting contests. She won Best Folk Song in the 2017 American Songwriting Awards with "The Hickory Tree." She also earned a nomination for Best Folk Song in the American Songwriting Awards and Hollywood Songwriting Contest for "The Colors You Make."