First Friday Art Walk, August 4, 2017
August First Friday
FREE Community Art Event
August 4 @ 5:00 pm – 8:00 pm
Featured Photographer: David Lorenz Winston
Show:  Simple Designs
David Lorenz Winston is an internationally recognized, award winning photographer based in Talent, Oregon.  He is widely known for his winter landscapes.  However, he is equally at home reflecting on the human condition and uncovering surprises in the ordinary.  He brings a unique way of seeing to his work expressed through humor, irony, timing and mystery. His current images reveal further explorations into the simple designs that can be found everywhere, but go largely unnoticed. David will be showing a selection of his work at The Photographer's Gallery at Ashland Art Center during the 1st Friday Art Walk on August 4th.
Featured Studio Artists: Candy Wooding, Paul Littell and Robbin Pearce
Show:  Rock, Paper, Scissors
Candy Wooding, Paper Artist, Paul Littell, Jewelry Artist and Robbin Pearce, Fiber Artist who is inspired by travel will be presenting their show, Rock, Paper, Scissors.
Featured Gallery Artist: Dev Klarer and Linda Dixon 
Show: Manifestations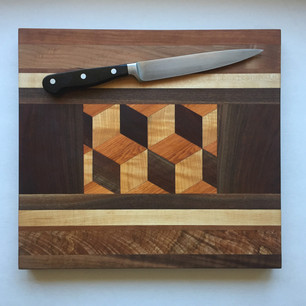 Dev, Woodworker: Late night meditations on hexagonal geometric patterns and wood grains leads me to ask the wood spirit, "does this pattern suit you?"  If the wood give a positive response then it is milled, cut and assembled into tiny shapes of precise geometric patterns and optical illusions.  The final products are wall-hangings, cutting boards, small tables or necklace pendants.  My inspirations include:  The Crop Circle Makers, M.C. Escher, Alex Grey, my Dad and Mazos the Magnificent.  www.danceswithwoods.com
Linda Dixon, Mixed Media:  Exploring the art of becoming in mixed media, Linda uses painting, drawing, collage, textures and found objects in her multi-layered pieces.  Birds, eggs and butterflies are frequently juxtaposed with human hands and figures as she draws parallels between physical and psychological transformations. More work can be seen in studio three at the Ashland Art Center and at ljdixon.com