Bridget Reynolds, Featured Artist
Bridget Reynolds, Deity Arts is our featured artist for February.  Her Ganesh theme will be represented in her drawings, tracing mono prints multi-media, journals and cards.  Bridget, a Business Consultant and Artist came to art late in life and has found such joy and depth in the process. From the beginning she was compelled to create deities and has followed this. She loves and respects the energy that presents as she works and hopes that this energy translates to the pieces created.
Featured Photographer: John Christer Petersen
Show:  A Hidden Gem in Sweden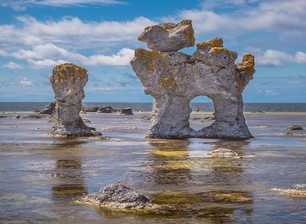 John-Christer Petersen is a local photographer who has shown his work in multiple venues in the Rogue Valley.  In recent history, though raised by Danish parents, John discovered that he was adopted and is Swedish.  Instead of being an "only" child he has been welcomed into a large family in Sweden.  Last summer John made another trip to Sweden to visit his family and to learn more about his true heritage.  He will be showing "A Hidden Gem in Sweden", at The Photographer's Gallery in the Ashland Art Center during the 1st Friday Art Walk in Ashland on February 3rd.
Featured Musician:  Waking Hazel will be performing from 5:30pm to 7:45pm
Acoustic/Americana/Bluegrass/Old-Time